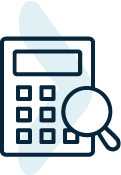 Accounting Services
Whether you need a quick review of your books, a comprehensive review of your annual accounts, or something in between, we'd love to help find the best solution for you and your business.
We care about your business set-up and want to get it right from the start – so you can successfully grow your business. We implement accounting systems that work for you, so you can get on with the job. Combining the latest technology and our 20 years of experience, we'll ensure everything is compliant – accuracy is crucial, big-picture thinking, pricing, margins, and problem solving.
Come and have a chat with us and find out how, together, we can grow your business.